=If your wish
is to hunt or fish
in District 1 or 2
Then give us a call
at (207) 398-4251
and tell us who!
Maine's Wildlife Management Districts
If you are interested in hunting Moose with Allagash Wildlife Sporting Camps, choose zone's 1 or 2 as your first and second choice.  Zones 1 and 2 are the areas we hunt in and they also are known to have some of the most dense moose populations in the world!  You can be hunting in just a short 10 minute drive making our camps the most convenient.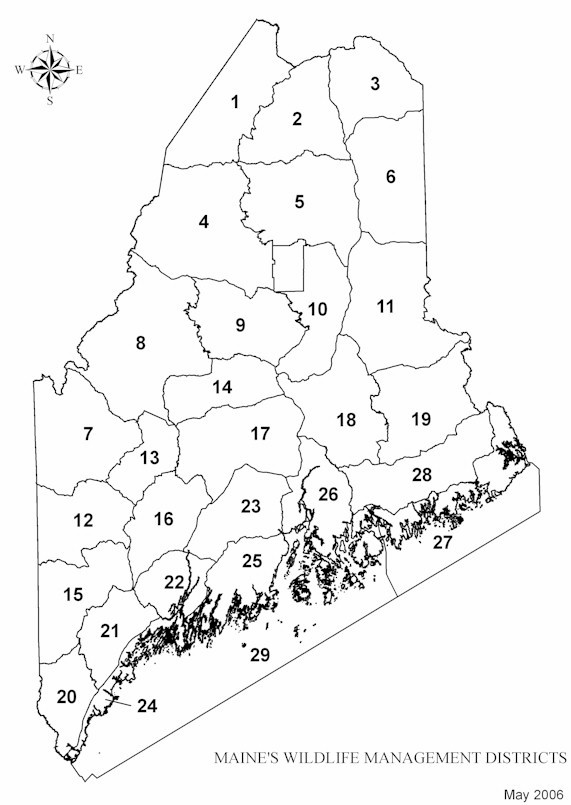 ---
Over 70? Did you know???
PLEASE NOTE: Moose permits to resident applicants over 70
If your over the age of 70 a  recent law guarantees a moose permit to any resident applicant who turns 70 or older during the calendar year of the hunt.  In order to qualify, you must have accumulated 30 points in the moose lottery system. Be sure to submit your application prior to the deadline and indicate all the seasons and WMD's where you are interested in getting a permit for.  Remember to put zones 1 and 2 as your first and second choice.
Read more at: http://www.maine.gov/ifw/licenses_permits/lotteries/moose/index.htm#over70
---
Moose Permits and Winners List
State of Maine Moose Hunting Application and Information:
If your interested in entering the Maine Moose Lottery, please click the link below. http://www.maine.gov/ifw/licenses_permits/lotteries/moose/index.htm
See 2018 Moose Permit Lottery Winners: Want t see past winners or check if your name is was drawn please click below.
---
Moose Auction
MDIFW will auction 10 moose hunting permits to applicants who submit the highest bids through a written bid process. You must submit the permit in bid form along with a nonrefundable $25.00 bidding fee.  If your awarded a permit, you must pay the bid amount and select a hunting district, hunting week, and permit type within 30 days after the permit is awarded.  Individuals may enter the general public chance drawing and still be included in the auction but may receive only one permit.
Bidders who receive a permit in the general auction drawing, are  no longer eligible in the auction; and your bidding fee and bid amount will be refunded to you. MDIF&W uses the sales of these permits, to be deposited in a non-lapsing fund to be used to pay the costs to administer the program. These funds are also used to fund Youth Conservation Education Programs in Maine.
Maine Fishing License
You can always get your license here in person.  If you would rather,  you may save time and use this link to purchase your Resident or Non-Resident Fishing License: https://moses.informe.org/cgi-bin/online/moses_v3/index